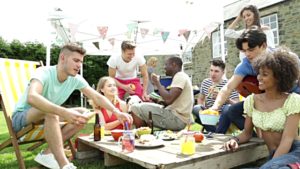 BUDGET BACKYARD BBQ
When you're ready to plan your next backyard BBQ on a budget, delegate to save time and money. The ideal BBQ allows everyone to relax, eat, play games and have a good time. Feel free to invite all your friends and relatives to help you out. Arrange for games that allow guests to play as a team or one on one.
Choose a few games for team building:
It's also a good idea to include exclusive one-on-one games like chess, checkers and a deck of cards. The idea of the games is to allow people to interact with each other in the spirit of competition.
You can also save money by planning your own playlist instead of hiring a DJ. Choose upbeat music that you're sure the crowd will enjoy. You don't have to wire sound throughout your backyard if you use wireless speakers. Simply connect to your Ipod or computer playlist.
Hire a personal chef to prepare the meal. This will give you time to enjoy with your guests. Call Dine With 9 Catering for an estimate. Our chefs will plan a menu within your budget to make sure the pickiest eaters are satisfied.
Decoration is also something you can delegate to the kids or those guests who arrive early. Use your favorite color Gingham linen to cover the tables. Gather things like sea shells, lanterns and ornate objects for your tablescape. Use streamers across the back gate and as a way to encompass the party area. Don't forget to also use colorful disposable plates, napkins and cutlery to continue the theme of your BBQ.
The last item you can delegate is the bar. Ask guests to bring a bottle of their favorite spirit. You can save money by purchasing all the disposables, non-alcoholic beverages and ice for the bar. It's also a good idea to create a non-alcoholic house drink that can be spiked with alcohol. Try our recipe for Ginger-Mint-Lemonade. Add this beverage to a large self-serve container. Now you're ready to party!