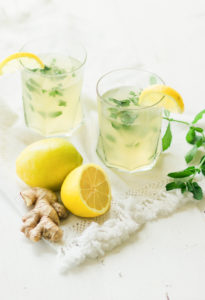 GINGER-MINT LEMONADE
Dine With 9 Catering's ginger-mint lemonade recipe is one of signature menu items.  Clients love it as an add-on for lunch and for cocktail parties where we spike it with either rum or vodka. It's so refreshing and wholesome, you'll want to bottle it up and take it home. Our chefs prepare this recipe fresh the day before an event, so the flavor is intense. We thought about bottling it up for sale, but we would hate to add preservative to maintain that delicious flavor.   So, we decided to share the recipe with our clients so they can make it at home.  You can store this beverage in the refrigerator and enjoy that delicious flavor for up to 10-days.  Yeah, we tested it.  The flavor was still fresh even after the 10th day, but it was so good we drank it all on day 11.
INGREDIENTS:
1 ¼ gallon distilled water
½ ounce Fresh Ginger root (remove outer skin)
1 ounce Fresh mint leaves
10 large Fresh Lemons (cut in half)
2 ½ cups Organic Sugar
DIRECTIONS:
Add distilled water to a large pot and boil on medium heat.
Add ginger root, mint leaves and lemons to the water. Allow it to boil for 45 minutes.
Allow liquids to cool, and strain through a colander. Be sure to squeeze excess juices from the lemons and the ginger.
Add organic sugar to liquids and stir.
Refrigerate beverage overnight or at least 2-hour, then serve chilled.
M.I.L. Note:
Add rum or vodka to this beverage for make a delicious summer cocktail. Garnish with a fresh sprig of mint.