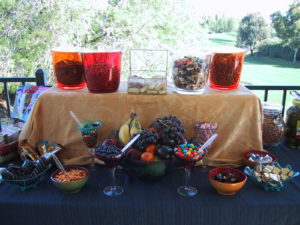 WHAT IS CRAFT SERVICES?
In film, television and commercial production, craft services  refers to the person who provides snack food and beverages to the rest of the production crew.   Often referred to as "crafty," this crew member provides buffet style snacks and drinks. The crafts in film refers to departments such as camera, sound, electricians, grips, art director, set decorator, hair and make-up, background.
Crew positions evolved with technology and became more specialized.  "Crafts" can no longer cross over.   For example, electricians doing "grip work" by moving a stand is no longer okay.  It became necessary to hire an "all-around" laborer.  This position can help any department and perform menial tasks such as digging holes or sweeping the floors. These laborers can receive an upgrade in salary. They can be put on the "cable rate" for helping to guide sound or lighting cables for a shot.
There is a difference between craft service and catering. Craft service is the food that is always available to the crew WHILE they are working.  Craft service can range from a single table of donuts and coffee to elaborate snack buffets with tray passed appetizers. Catering handles the true meals like lunch.
Catering is a sit-down hot meal that lasts either 30 minutes or an hour, and is offered to the crew every six-hours throughout the work day.
Occasionally there are two craft service stations.  One for cast and crew and another for non-union background actors. The food provided can vary widely, due to fluctuating budgets for example: pilots, low budget, often offering very limited food, while big budget productions often offer generous food and drinks.
Craft service is a crew position and craft service people are sometimes represented by the union, the (IATSE).  Dine With 9 Catering offers craft service along with catering services for TV & film productions.