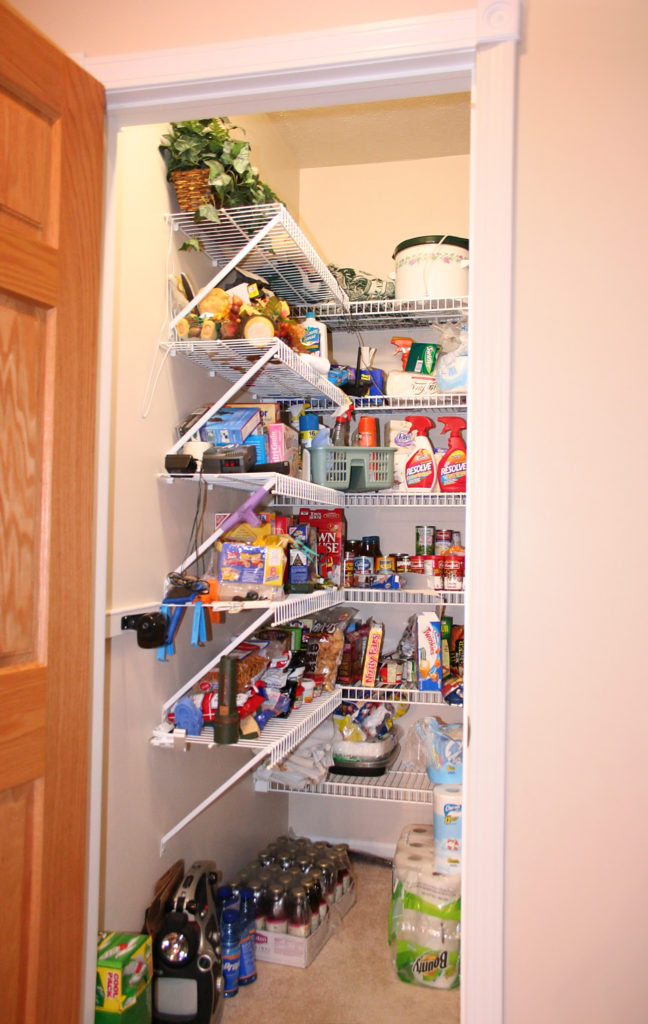 In the catering and restaurant industry, we stock our pantry with food and supplies to service our customer base and fulfill rush orders on short notice. Lately, our chefs have been asked "what should I keep on hand in an emergency?" The answer depends on what you eat regularly and the shelf life of those items. Some of Dine With 9's catering menus are more popular than others, so we keep more of those ingredients on hand than those less ordered. You should consider the same rule of thumb when stocking your home pantry. If you have outdoor space, an easy to manage garden filled with your favorite vegetables is highly recommended.
We store the items most often ordered for catered meals like breakfast, lunch and dinner. Dry and canned goods tend to have a longer shelf life than items that require refrigeration. Some vegetables can also survive well in a cool dry space like your pantry and can be included as part of your survival pantry. You should continually rotate your inventory using what you need daily and restocking as you go. Only purchase items that you would normally eat because items you don't use regularly will likely set in your pantry beyond the expiration date and won't be usable in the time of an emergency. These items become a waste of money, which is something you should really be storing in in the case of an emergency. Ideally you want to have a pantry that will allow you and your family to survive for up to 3-weeks. This doesn't mean eating your regular 3-meals a day, but at least having 1 sustainable meal each day until help reaches you.
Below are a few recommendations to get your survival pantry started. The quantity of each item depends on the size of your household. It's best to measure how much you current use on a weekly bases and multiply that times 3 weeks, if you have the storage and space for those items. An added benefit to having a well-stocked pantry is you'll save time on weekly shopping by having staple items on-hand. I also recommend giving the gift of a "survival pantry" to a family in need or to help out an elderly family member. No matter where you store your food items, be sure it's a cool and dry space that's not accessible to rodents or bugs. Air-tight storage bins can help.
Bottled Water
Rice (any & all varieties)
Dried and Canned Beans (any variety)
Canned Vegetables
Canned Soup
Almond Milk, Coconut Milk and/or Powdered Milk
Olive Oil or other plant based oil
Hot cereals like Oatmeal, Cream of Wheat or Grits
Nut butters like Peanut or Almond butter
Variety of Nuts
Dried Fruit (Cranberries, raisins, prunes, etc.)
Honey, Maple Syrup, Jellies or Preserves
Pasta Noodles
Whole Root Vegetables: onions, garlic, potatoes and beets
Dried Mushrooms or Canned Meat such as tuna, chicken or sardines
Crackers
Canned tomatoes, pasta sauce and tomato sauce
Coffee and/or tea
Apple Cider or White Vinegar
Salt
Condiments like ketchup, salsa, mustard, etc.
Dried Seasonings
Water purification tablets
Dish Detergent
Paper Towel
Aluminum foil
Ziplock bags (variety of sizes)
Food handler gloves
Polyvinyl film
When planning your survival pantry, consider items specific to your dietary needs, allergies and food restrictions. The idea is to have healthy staple items that you normally consume that have a 6 month to 1-year shelf-life, not including the root vegetables you'll keep in your pantry.