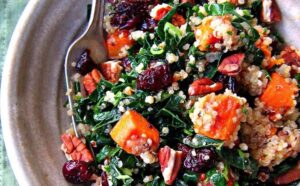 The warm weather is sailing in and it's time to get that body beach-ready, so you can be super human! Dine With 9's culinary team has created new entrée salads made with superfoods that will fill you up and keep that waistline slim.
These salads are not just a bowl of lettuce and vegetables. We've incorporated superfoods like mother grains, lean proteins, nuts, seeds and lots of fresh herbs. These aren't side dishes, they're a complete meal!
Everyone loves a variety of options on the buffet, so add a tasty entrée salad to your next catering order for those warm California days ahead.*
Call us or request a quote online.
ENTRÉE SALADS
Mediterranean Quinoa Salad w/Cranberries, Olives & Feta
Strawberry & Arugula Salad w/Avocado & Slivered Almonds
Asparagus & Farro Salad w/Heirloom Tomatoes & Walnuts
Grilled Artichoke and Mache Salad w/Cannellini Beans & Goat Cheese
Roasted Beet & Kale Salad w/Sweet Potatoes & Quinoa
Southwestern Quinoa Salad
Thai Chicken Noodle Salad
Curried Wheat Berry Salad
5-Bean Greek Salad